At a mere 5" this Kit is ideal for beginners. Never picked up a needle? This is the perfect kit for you.
There are 4 basic stitches needed for this pattern, and step-by-step instructions are included in your kit.
---WHAT'S IN THE KIT---
« Digitally printed fabric
« Wood embroidery hoop- 5"
« Embroidery floss
« Embroidery needle
« Printed Instructions
Customer Reviews
05/13/2021
Becky W.

United States
This kit is so precious! And it...
This kit is so precious! And it arrived incredibly quickly! I love that I can search for shops by location and support local businesses. SW/SE Portland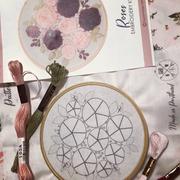 05/13/2021
Mica H.

United States
Shipping was quick!
Shipping was incredibly quick! So so excited to start this. Great quality and instructions are easy to understand as a beginner!
05/13/2021
Chris

United States
Beautiful Pattern
Beautiful pattern! Kit has absolutely everything I need, is packaged perfectly, and will make a timeless heirloom! I may be getting a little over confident in my abilities because all of the instructions are so thorough. I'm so excited to try these patterns, and more in the future!